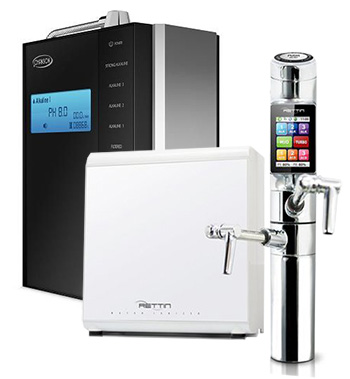 Millions of people already know that it's important to drink more water. But it's not enough. Drinking tap water, or even purified water is good, but it's not the best. The best solution for health is proving to be that of ionized water produced directly from alkaline water machine.
Without proper ionization in your water, the pH balance is going to be off. You need this pH element to help your body get to an all natural, 100% healthy status.
You could try to get high pH water on your own, but that can get expensive if you were to purchase bottles. To offset the cost of having expensive high pH, you may want to look into buying an alkaline water machine.
The 5 Best Alkaline Water Machine Brands
The following are the best solutions that you're going to find on the market today. These are going to be based on reviews, and other elements. Each one will give you a good chance of getting alkaline water, but each one has their own positives and negatives.
​pH Levels : 2 - 12.1 ph
Plates : 8 Plates
Avg Price : $1,295 - $2,849
---
pH Levels : 1.7 - 12 ph
Plates : 11 Plates
Avg Price : $2,445 - $3,495
---
pH Levels : 2 - 12 ph
Plates : 7 Plates
Avg Price : $2,195
---
pH Levels : 4.5 - 11 ph
Plates : 7 Plates
Avg Price : $1,195
---
pH Levels : 2 - 11 ph
Plates : 7 Plates
Avg Price : $4,980
---
When trying to figure out alkaline water brands, you'll need to focus on the results that you want. You may not immediately know what to look for, or what the benefits are.
However, you can find that the benefits start with hydration, and then rise upwards to a path of good health. Your joints will feel lubricated, your digestion will improve, and you'll even get a good amount of energy due to the body's use of water and hydration.
The following will review the basics, and give you an idea of which is best for you to utilize.
1. TyentUSA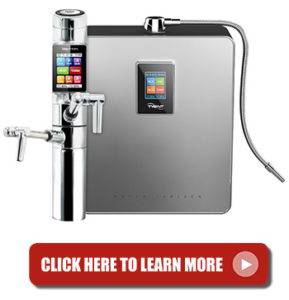 TyentUSA has two very unique solutions for those that are looking at alkaline water machines. They have a 9 plate solution and an 11 plate solution.
The 11 plate solution is called the UCE-11 Under-Counter Extreme Water Ionizer.
This is a solution that jumps the plate level, and gets you maximum filtration, ionization and water capacity that can work with a faucet or a shower.
You'll find that it's certified and approved by UL, CSA, KFDA, ISO 9001 and 14001, making it one of the best filtered alkaline solutions on the market.
pH Levels
In regards to this solution, you'll find that the pH levels are adjustable, with a solution that goes from 1.7 to 12.0 depending on what you want to set it at. It comes with dual ultra-filtration elements, has 8 settings, and 99 presets per level, as well as a cleaning element to make things a bit easier to manage.
Positives
It's easy to see why this may be a best buy, considering there are 11 plates, and an ultimate filtration system within this solution. It's a full option that lets you adjust pH levels across every health element you can think of.
It's easy to install, easy to use, and can work through showers, kitchen, bath, and other sinks. At $3,495, it's a bit pricey, but it's a whole-house solution, which makes it a premier option to consider.
2. Chanson Water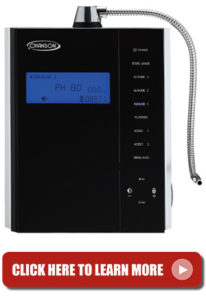 Chanson Water has a lot of options, with a variety of price points and packages. At the basic level, you'll find that you can get a simple 7-plate solution for around $2,000. However, you could purchase larger packages with full ionization and packaging for roughly $3,000 and up.
The basic packages come with filters, ionizers, instructions, and more. Depending what your needs are, you can pick one of Chanson Miracle line of ionizers.
pH Levels
Looking at the pH levels of the Chanson systems, you'll find that they are adjustable. They can bring you to the proper ionization and pH level for your water based on how hard things are. You'll need to know whether or not you have hard water, or if you have something a bit soft, and then make the adjustments. You'll be given instructions about this, and a pre-filter, as well as other elements.
Positives
The positives of the selection from Chanson is that there are multiple solutions. You can get a full kit or you could just get an ionizer alone. If you don't have a great deal of money, you could get the Chanson Violet package, for instance.
This has an ionizer and pre-filter for under $1500. If you need something more, you'll find that there are other packages, instructions, and so much more. Chanson helps you get the ionization of water fast.
3. Platinum Alkaline Water Ionizer Machine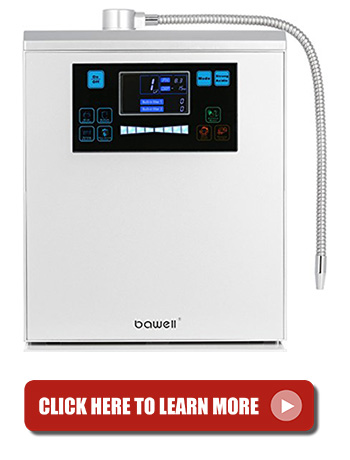 Moving forward, you'll find that there are some solutions that are very specific to Alkaline Water Ionization. Bawell has a lot of solutions, but their best offer is the well-reviewed Platinum Alkaline Water Ionizer Machine.
This is a solution that has been getting a lot of praise lately, specifically because it has an adjustable range, is priced just under $2,000 and gives you simple under-sink ionization without having to call in a plumber. It's easy to install and use, and gives you control over the acidity and purity of the water you want to use to drink, cook with, and more.
pH Levels
As with all the machines on this list, this one helps with pH levels, but it does so with a good adjustable range. It lets you work with 2.0 to 12.0 ranges and +600 to -800 overall. That allows adjustment of pH ranges and acidity as well. Some machines only let you do one or the other.
Positives
As far as the positives are concerned, you'll find that this is an easy to install, easy to use solution. It connects to your existing water source, and it has a lifetime warranty. It helps with alkaline changes, acidity changes, and lets you work with as little as 20psi for the benefits. It's a standalone unit that doesn't require a lot to get started, and can get you alkaline water within a matter of minutes.
4. Air Water Life Aqua-Ionizer Deluxe 7.0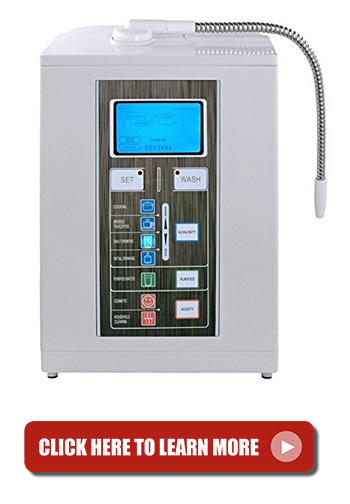 One of the lower cost solutions that you may find is from the brand Air Water Life. This is a quality water alkalizer, although it's a bit lacking in the special features. Where it lacks in bells and whistles, it makes up for in other areas.
For instance, you'll find that that it has 7 water options, 7 plates, with platinum coated titanium elements, and a carbon filter that helps get you pure water without a great deal of pressure. You can also replace the active carbon filter. It's meant to last a year, and can clean itself with relative ease.
pH Levels
The levels are adjustable on this, with a variable range of 4.5 to 11 pH, depending on what your needs are. It also has a simple LCD screen to help you get the right range. Changing the ionization levels is simple, with 7 different water purification options, 4 ionization levels, and of course a range of pH elements that can help you go from 4.5 to 11 pH fast.
Positives
The biggest positive on this solution is simple, the price tag. The price tag is well under $2,000 at only around $815 today. That small price is well worth looking into for a water ionizer, purifier, and alkaline water machine. It can ionize, infuse alkaline, and with 7 plates, and a variable pH scale, it's quite good.
5. Enagic Kangen Water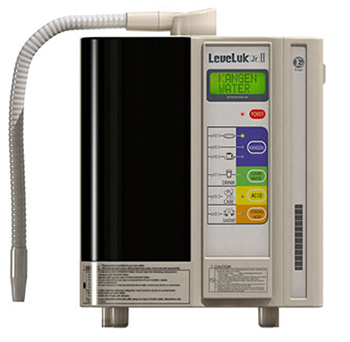 Enagic Kangen Water has a lot of solutions that you may want to look at. They start with a simple option that has 8 plates, and works with not only alkaline, but also purification.
The starter model has electrode plates, and an ionization element that helps with creating perfectly pure, ionized, alkaline water at a variety of different pH levels. It has an easy to use touch screen, and installs directly to the water line for easy access, and no hassle.
The 8 plate solution starts at $4,980, and it's their premium option. The second option that they has a 7 plate system, and has a built in chamber for acidic changes, alkaline changes, and more for only $4,280.
pH Levels
As you know, the strength of a machine relies heavily on the way it controls pH levels with the water. Well, with the 8-plate and 7-plate systems, you'll be able to change to filtration and ionization through the highest of solutions. From 2 – 11 is achieved with just a few presses. You can also gauge filtration and change that up if you'd like.
Positives
Overall, the high price of the solutions offered by Enagic Kangen makes it an interesting solution. Do you get a lot for it? The short answer is, yes. The easy to install, easy to use interface all works well enough, and the adjustable pH levels, and acidic changes is powerful. It's a high priced, well placed ionization machine with multiple plates, and easy to use interface.
Making Sense of the Best Water Ionizer
As you look into alkaline water ionizer comparison options, you'll realize that the names above are going to show up a lot. The main comparisons look into the pH levels, the positives, and the plates of course. But that's not all. You'll find that some brands are revered over others, and making sense of it all is tough.
Some alkaline water brands are better than others, as with any other industry there are some brands that are just better overall. For instance, in this case, you will find that:
Enagic Kangen Water may not be as good as others
One of the main reasons is because they max out at around 10.3 to 11.1 pH levels. Furthermore, the company doesn't allow retailers to sell the option if they sell others. But they don't provide the best filtration and ionization, making it a bit odd of a request.
Simply put, Enagic Kangen doesn't provide the best, even though they have an 8-plate solution standard.
Some of The Other Benefits of Water Alkalizer
Alkaline water requires you to take purified water and then ionize it to a certain pH level. Once you do that, you can drink it and start to feel the results in your body. The digestive system will get hit first. It will help the acid in your stomach get to proper levels, and the acid stabilize. That means better digestion, a spike in metabolic rate, and perhaps even weight loss. The other benefits include:
Detox Your Liver
Reduce Bloating
Help Weight Loss
Reduce Acidity in Stomach
Improve Joint Pain
Antioxidant Delivery
Reduce Cancer Risks
Help Heart Health
Improve Hydration
Improve Circulation
These are the main solutions that you're going to find to be true when you utilize alkaline ionized water machine options. Selecting the best one can be rough, but it's not impossible. You'll need to look at some of the best options available today.
The above are just some of the best reviewed, bestselling machines that you can focus on. They will help you get the health benefits of alkaline water, and will help you determine which water ionizer reviews are best served to help you buy the right machine.
The Bottom Line on Alkaline Water Machines
As you look into all of this information, you need to understand that there are many different alkaline water benefits. You'll need to purchase an alkaline water filter system if you want to get those.
As mentioned above, you can detox the liver, cure chronic dehydration, help acid reflux, help digestion, lubricate joints, help blood circulation, and so much more. This type of change is not about just drinking more water, it's about getting the healing benefits of water, and it's only found with alkaline, filtered water.
There are several places where you can buy machines. You can look online for, where to buy alkaline water machine, and see if there is a retailer near you, otherwise you'll want to go online. The above brands are some of the bestselling, best reviewed solutions today.
However, you'll need to decide how you want the delivery mechanisms to come through. For the most part, you can get something that you can put on top or underneath your counter, and plug directly into the main water line. Either way, you'll find that water ionization machines help you get the health benefits outlined above, and assist with many other benefits as well.